My oldest daughter, Colette, turned 19 Saturday. I know, I know, I don't look that old (LOL). Yes, I was three when I had her. Anyhoo....We were looking around
Anthropologie
a couple of weeks ago and came across a cookbook that had a pretty chocolate cake with pink frosting.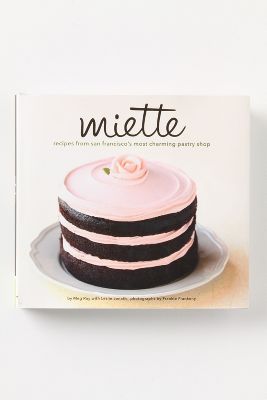 She told me that she wanted her Birthday cake to look like that. This week she told me she wanted purple frosting.
Here's my version...
I'm pretty darn pleased with how it turned out!!
I used a regular chocolate cake mix and substituted almond milk for the water. I've done this a number of times and I think the cake turns out moister and not tough. I split the batter between three 8 inch pans and reduced the baking time by about five minutes. Always check to be sure the cake is done!
I used Wilton's 1M tip to outline the layers and Bakery Crafts 9P tip to fill it in. I didn't cover the entire cake but when I put the layers on, the frosting spread out pretty evenly.
By the way, here is my favorite recipe for frosting.
3 ½
cups
confectioners' sugar
1
teaspoon
vanilla extract
Directions:
In a bowl combine butter, sugar and salt. Beat till blended.

Add the milk and vanilla and beat for an additional 3 to 5 minutes or until smooth and creamy.
I found a tutorial on making the "roses" at
I Am Baker
, as I've mentioned in an earlier post, I am lazy. I didn't dirty ice the cake first so once again, there is a little bit of chocolate cake peaking through. It still looked quite pretty. I finished them off with white dragees.